New post
The annual Black Friday Sale is FINALLY HERE! (The activity time is at the end of the text). But you still don't know how to take the advantage of this sale? Too naive if you think the discount on our web is all we offer. If you want to save more money and make your every expense worthy, please read on and get inspired! 
Typically you can get 20%-30% off on our web in you place the order directly during the promotion. For instance, the price for Mirage is $259 and you only need to pay $194 after applying a 25% discount. But that's it? 
If this is your first-time choosing LaVivid, you can get 100 Loyalty Points by signing up on our web. (100 LOYALTY POINTS=$1) And then complete your personal information, especially your birthday. You can get 200 points every year on your birthday. 

What if I'm not a new customer? Well, congrats to you as you are able to get more points in addition. You can get 1 point per $1 you spent and you will receive the points right away after the payment. If you have placed orders before, for example, you once spent $259 on a Mirage, you will have 259 points in your wallet. 
After you receive the hair systems, you can leave us a good review on our web. For text review, we offer 200 points and for text&pics review is 500! You can also get an extra 1000 loyalty points for posting a positive review on a review website like trustpilot.com or Facebook page. (please send your review screenshot to support@lavividhair.com). 
If you feel pleased about our products and want to share them with more friends, you can get 1000 points for this, and your friend will get 15% off for his first purchase. 
You can redeem your points at the checkout by using the points slider. Simply slide right and choose.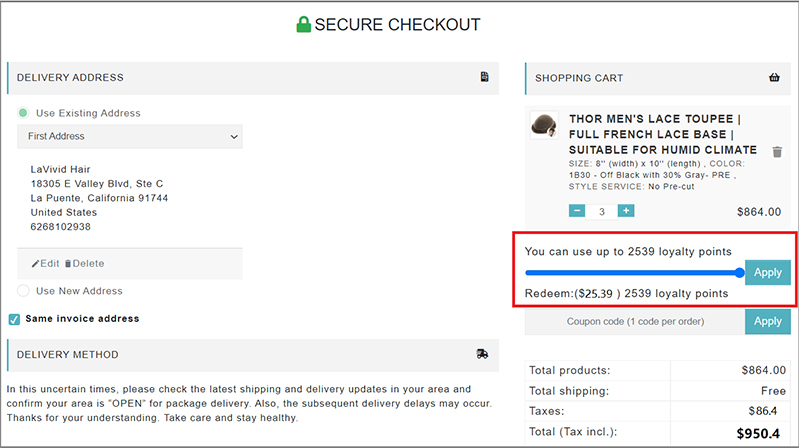 (PS. Custom orders might have discounts too which is unprecedented! Please feel free to contact us at support@lavividhair.com for more info!)
You might have some store credits in your wallet, you can check them up before placing the orders, and apply both of them. 
During the Black Friday and Cyber Monday Sale, you will receive a free gift along with the hair system as well. And so far, to my knowledge, we'll have the biggest promotion this year. You might spend $259 on a full skin base hair system, or $348 on a full lace base one in the past. But now, you can get the same best quality hair system at a super-low price ever! The price would be $194 and $261 respectively and even lower! The sale begins on 21 Nov and ends on 28 Nov. What are you waiting for? Promise me don't miss the Sale!