Pick The Right Frontal Hair System For Your Receding Hairline 
January 12, 2022
Hair Replacement for Men
Views: 1730
Feeling hopeless and frustrated that your receding front hairline is just too noticeable? 
Want the perfect front-hair piece that will last you for years without drawing attention to itself and won't need shaving every day like other styles might require of their wearers.
Well, look no further! Relief your tensions with our undetectable frontal systems for men.
Lace frontals or lace frontal hairpieces are trendy options for men. These hairpieces can be worn as wigs, but they also refer to the construction method, which involves individually sewn pieces of human hair synthetic blends with a tight netting between each one, giving it that natural look you'll never find in any store-bought wig!
A lace Frontal Wig is a great way to hide those thinning spots while giving yourself an improved appearance. 
To know more about the frontal hair system and spice up your appearance, keep reading the wonderful piece of writing. 
Best Frontal Hair Piece for Men 
If you're looking for a way to cover up your receding hairline, the Zeus male frontal hairpiece is perfect. It can be worn by anyone with healthy hair elsewhere on their head and doesn't want to shave off all of theirs in order to wear this piece! 
You'll need just one small bond at the frontmost part; however, make sure your stylist blends this piece with what remains on top because otherwise, it will just look like an awkward hat! 
Zeus is the perfect solution for men who are starting to lose their hair at the front hairline. Our frontal hairpiece is made from 100% human hair, looking and feeling incredibly natural. Moreover, Zeus provides both forward and backward hair directions to support your favorite hairdo. 
Tip: If you're looking for a slicked-back hairstyle, opt for the backward hair direction. For fringe looks, forward hair direction goes well!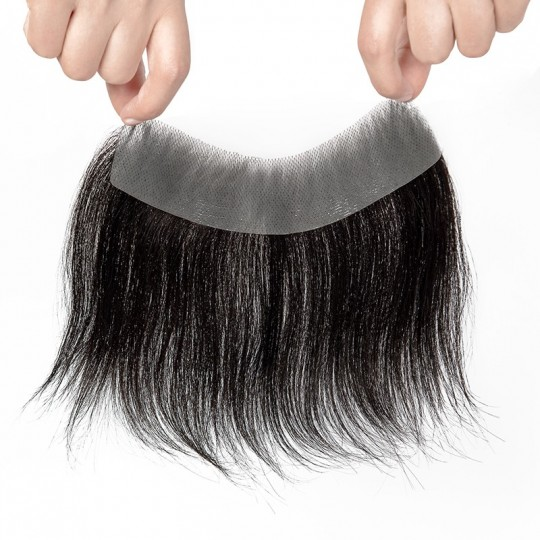 Joseph's hair has a forward direction, and it is for people who prefer to wear their locks down or up in the front!
The Joseph hairpiece is a great way to cover up your thinning at the front of your head without shaving or cutting any other parts. You can wear this comfortably, and it won't interfere with anything else on top! It will blend nicely into existing hairs, so there's no need to worry about long-term damage from using another style like extensions that might not work out as planned.
It's important for people to note when selecting an experienced stylist to know how much blending will be necessary for a more natural and pro look.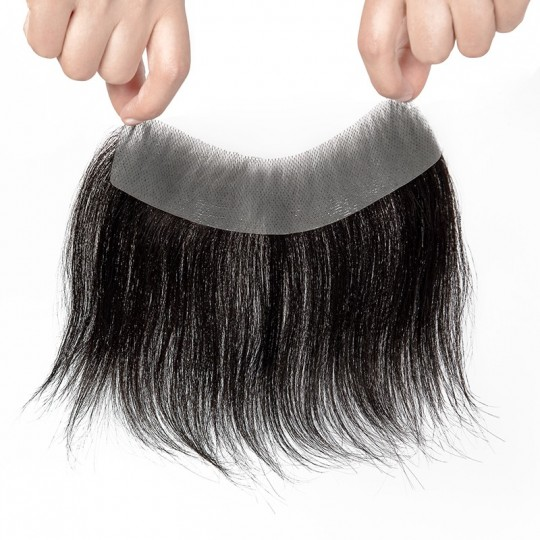 ●Poseidon Men's Receding Hairline Solution 
Poseidon is a new hair system that can be styled and worn in any direction. The silk top base of Poseident gives you an invisible, full headband-like look with just one-inch coverage around your perimeter, while the thin polyurethane layer holds all three layers together seamlessly, so there are no visible strings or tangles when wearing our favorite hairstyles!
You would never know the hair on your head wasn't real. The color and texture are so lifelike; you could be fooled into thinking some magic spell was giving it life!
The Poseidon hair system is the most durable out of all bases, with silk in the center and thick poly around. It'll last you at least 8 months!
To your surprise, medium-density hair can cover the front of your head and make it undetectable.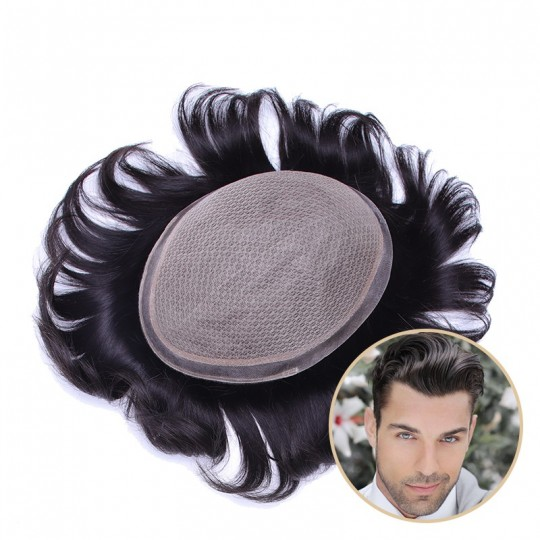 Where To Find The Best Frontal Hair Systems? 
Hair loss can be a big problem for many people. It's not just about vanity; it impacts self-confidence and even mental health. 
Lavivid Hair wants to help by offering high-quality, affordable hair systems that look natural and feel comfortable. Our frontal hair system is made with human hair, so they're soft to the touch, easy to style and maintain and blend seamlessly into your own scalp. You won't believe how good you look until you try one on yourself!
With Lavivid frontal hair systems, there is no need for expensive trips to the salon or uncomfortable wigs that don't fit right - we've got everything you need in one place at an affordable price! Plus, all our products are guaranteed to meet customers' expectations.
Lavivid is the leading provider of frontal hair systems. Our products are designed to give you an improved appearance and can be worn as a wig or attached with adhesive. 
It's time to love how natural your hair looks and feels!
---
---
Writers Cooperation:
LaVividHair is seeking for blog contributors who know and love hair. If you know alternative hair or hair related accessories, if you have great understanding of hair trends and fashion, if you are expert in hair care, if you have any experience with salons or celebrities, if you would like to share your experience to help people just like you make the right choice, now contact us at support@lavividhair.com to be a blog contributor. Let's discuss the details then.